What does it mean to be a conscious parent?
To celebrate 9000 likes on Facebook and 18,000 followers worldwide, we have just completed a nice little contest where two conscious parents could win a copy of "The Children's Meditations In my Heart".
See who won the bottom of the page.

To participate in the competition, we asked you to to reflect on – and tell us what conscious parenting means to you. The result has turned out to be a fine list of beautiful views on conscious parenting. We have summed up on your advice below. Please read on and get inspired by each other. You might want to reflect a bit on what conscious parenting is to you, and what you can do to turn your autopilot off a little bit more everyday in your ways of parenting.

YOUR VIEWS ON CONSCIOUS PARENTING:
1. To help, guide, teach and nurture
Vicky McCarthy: To help my almost 3 yr old (in October) to grow into the way shower she is destined to be. To guide her and nurture her along her journey in this life & beyond. To teach her unconditional love and be her "best friend" as she calls me, which melts my heart. She has a natural knowledge of my crystals & is very empathic already. A very old soul indeed. Oraphim I believe.

2. To let go, embrace intuition and follow my heart
Amanda Rolph:
To let go of everything that I thought I 'knew' about parenting, and to embrace my intuition and follow my heart in all decisions I make.
Eun-ju Perry:
patient for me for my little one as we are struggling every day sleep. We've just out of hospital so helpfully some changes for her.
Lorraine O Shea Lawlor:
Being in the here and now, trying to be present in every moment and cherishing this time always.
5. To keep thoughts simple
Dorothy Clarke:
To be present and keep thoughts simple so children may learn for themselves.
Koo Robinson:
To me conscious parenting means listening before speaking.
Susie Vought:
To try to listen to my children. I mean really listen….to their words and body language and intonation.
7. To empower
Joanne Byrne:
To empower!!
8. To e

xpand my ability to express my love and compassion
Lucy Smith:
To show my daughter how to love and how much I love her every day. To allow her the freedom to teach me how to love even more and make our bond a beautiful, unbreakable one. Too see her as an individual and give daily thanks for the light and beauty, humour and love she's brought into our lives with her joyous spirit.
Fandy Diney:
I have a 5 year old daughter and a 3 year old son, and I am really learning what conscious parenting means as I go along. The only thing I know for sure is that I need to expand my ability to express my love and compassion to them, so hopefully something will stick in their own lives.
9. To love unconditionally
Amanda Smith:
I want my daughter to know she has my unconditional love and for that to reflect from her. To guide her to love and respect others. To be happy & peaceful and enjoy life to the full.
Sarah O'Malley: Showing my children the love and happiness there is in the world and in people.
Thanks to all who participated in the competition. In your way of thinking about parenting, you are already winners – of your children's hearts, the greatest gift on earth. My hope for you is that you will continue to walk the fine way you have created as parents and continue to learn from your children.
The winners have been

randomly drawn

and are:
Vicky McCarthy
Fandy Diney
And we have decided to also donate a book for:
Eun-ju Perry
who is just out of hospital with her daughter, who now has trouble sleeping. We hope the book will help you.

Congratulations – you've won a copy of: The Children's Meditations In my Heart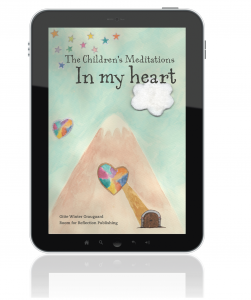 To collect your prize, please write to us at info@roomforreflection.com.