Are You Expecting?
Build a Bonding Bridge to Your Baby's Heart wit prenatal meditation
Create the most beautiful connection with your unborn baby using children's meditation
The book "The Children's Meditations: In My Heart" has found a new, wonderful audience, which is growing steadily. It is now also used for prenatal classes, enabling parents to bond with their babies through meditation. When you read the book out loud to your unborn child, you will be able to build a bonding bridge between your hearts and send the most wonderful energy from your heart to your baby.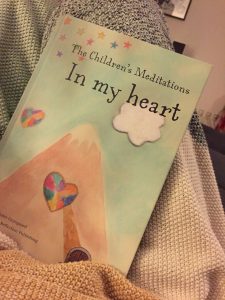 Want to feel the connection with your baby's heart?
We create these types of bridges between our own heart and that of our unborn child all the time: When we think of the baby, when we feel our own warm emotions and when we look forward to becoming parents. The book enables us to increase this feeling and to feel even more joy.
The thought warms my heart. I find it very moving and beautiful, and I see a lot of small bonding bridges being built between parents and their unborn babies all over the world.
Can't feel or relate to your baby?
Spending time with your unborn child in this way can also be wonderful, if you do not feel connected with your child or if you are having a hard time relating to the baby inside of you. Your baby's heart is one of the first parts to be created in your womb. You may find a path to it using meditation, no matter how far along you are.
Have to part with your child?
If your pregnancy is terminated the time that follows may be difficult. No matter the reason why you are not going to give birth, the time you have already spent with your baby will have affected both you and your child spiritually. For a while, two souls have been connected, and they always will be in a beautiful way. The meditations in this book can help you relate to the little soul who came to visit you.
Also great for the father-to-be
Fathers-to-be may find it difficult to relate to the baby in their partner's womb. If you feel this way, I recommend that you read the meditations in this book out loud to your unborn child. This is also a precious experience for your partner. Enjoy a lovely moment where all three of you are so delicately connected to each other.
Wonderful for siblings
During a pregnancy, the unborn baby demands a lot of its mother's attention, and if there are any older siblings, they may feel jealous. Try reading the book to your baby's older brother or sister and build the same beautiful bonding bridge to his or her heart. Your children are going to love the stories and not least your presence and your love. Furthermore, try letting your baby's older brother or sister send love to their little brother or little sister in the womb. This is so pleasant and deeply moving.
Enjoy the book.
I will be happy to hear about your experiences, if/when you have tried reading the book. Feel free to post your comments below.