Gitte Winter Graugaard
International bestselling author and expert in peaceful bedtime routines
Gitte writes books for children filled with magical meditations that help them find peace in the evenings at bedtime and sleep better. She is passionate about teaching children to navigate from their hearts and understand their beautiful inner landscape. When we know our inner landscape, so much in life becomes much easier... 
Bedtime meditation cuddle up
Ready to rock your bedtime routine? You have landed on blog #4 in a blog series of my magical bedtime routine tricks. If you wish to read from the beginning go to this blog. 
Once you've gotten to know your energy switch, you can view it as a muscle that needs to be trained. While you play with your energy switch, be curious, observe it and turn your energies up and down. It is like becoming a master energy detective in your own life. Turn up the things and people who fill you with energy and turn down those who drain you.
It takes training like everything else in life. However, often step 1 of this three-stage exercise – becoming aware of your attention – is enough for us to start seeing significant differences in our relationships. And this applies not only to children but in all other relationships as well.
The reason why it is often our children who can trick us the most is precisely that they are master detectives of our energies and our energies reflect in their behavior. Luckily this also goes for happiness and excitement
Still not sure how to do it? I offer you an automatic switch!
To help you out with the switch I have written: "The Children's Meditations: In My Heart". It has helped thousands of families the world over find their switch. Now it is in English, Spanish, Norwegian and Danish.
Many parents write to me that the book is magical and has made a huge difference to their bedtime as well as to the well-being of their children with less stress, temper, and anxiety.
The book creates an automatic "switch". While you read it to your child aka the little master detective senses that mom or dad is having a great time while reading the book, and when mom and dad begin to relax the little master detective relaxes and falls asleep much easier.
The master detective's reaction will be something like this "I can feel mom/dad is relaxed, mindful, loving, caring, and calm. I love this feeling. It makes me feel very loved and safe. Now I can calm down. There is nothing mysterious going on in my parent's energies that I need to interpret and react to. Now I can concentrate on myself. And when I concentrate on myself, I feel that my body is tired. Very tired after a long day of being a master detective. I think I will take a little nap."
This is the reason so many children fall asleep during the meditations. And if they do – please keep on reading – they can still sense your energies while they sleep.
I wish you all the best in finding your switch and creating a loving bedtime routine in your family. You are very welcome to share your thought or ask questions below.
All children deserve to go to bed and fall asleep with their hearts full of love.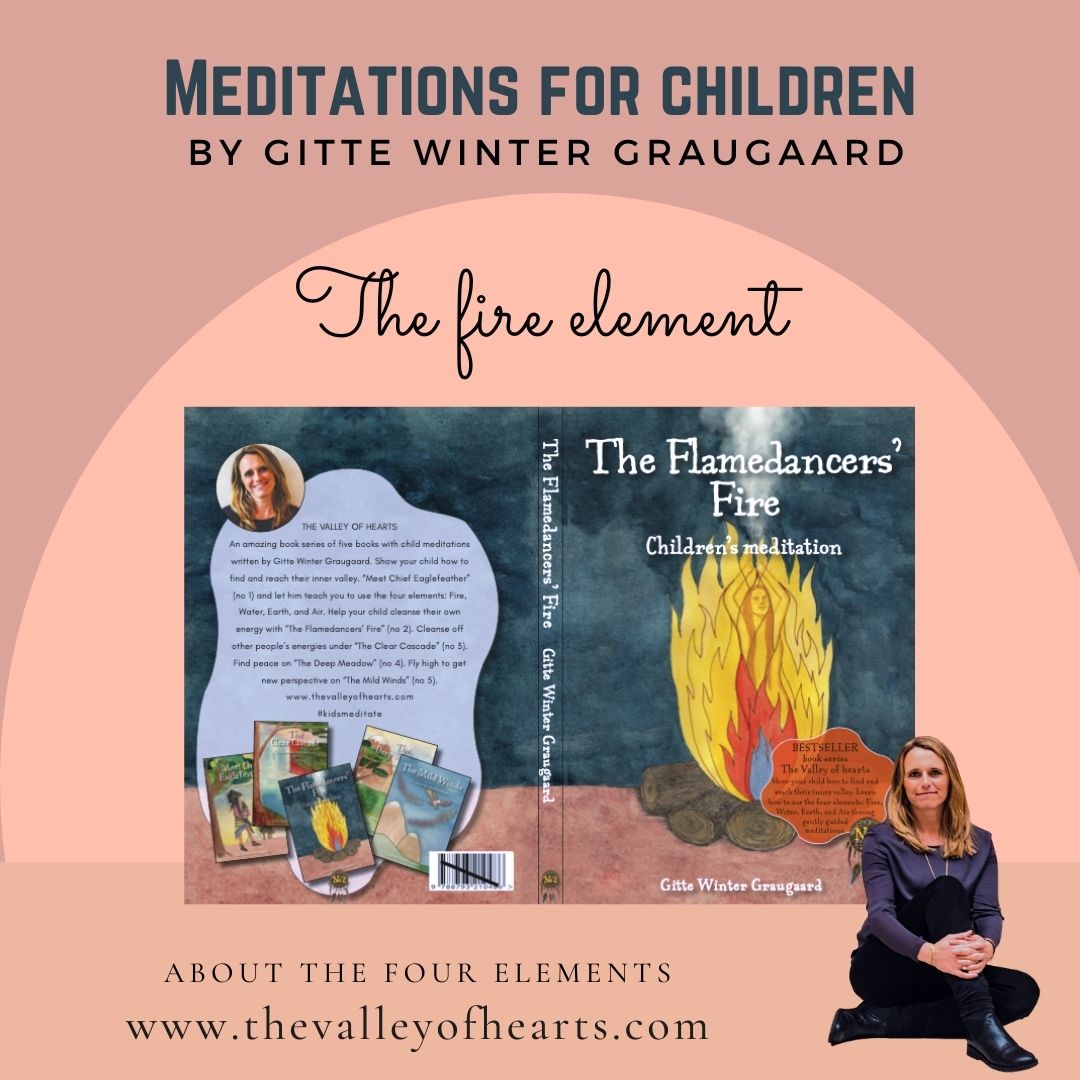 The Flamedancers' Fire
Teach your child to tend to their inner fire to find balance and passion in life.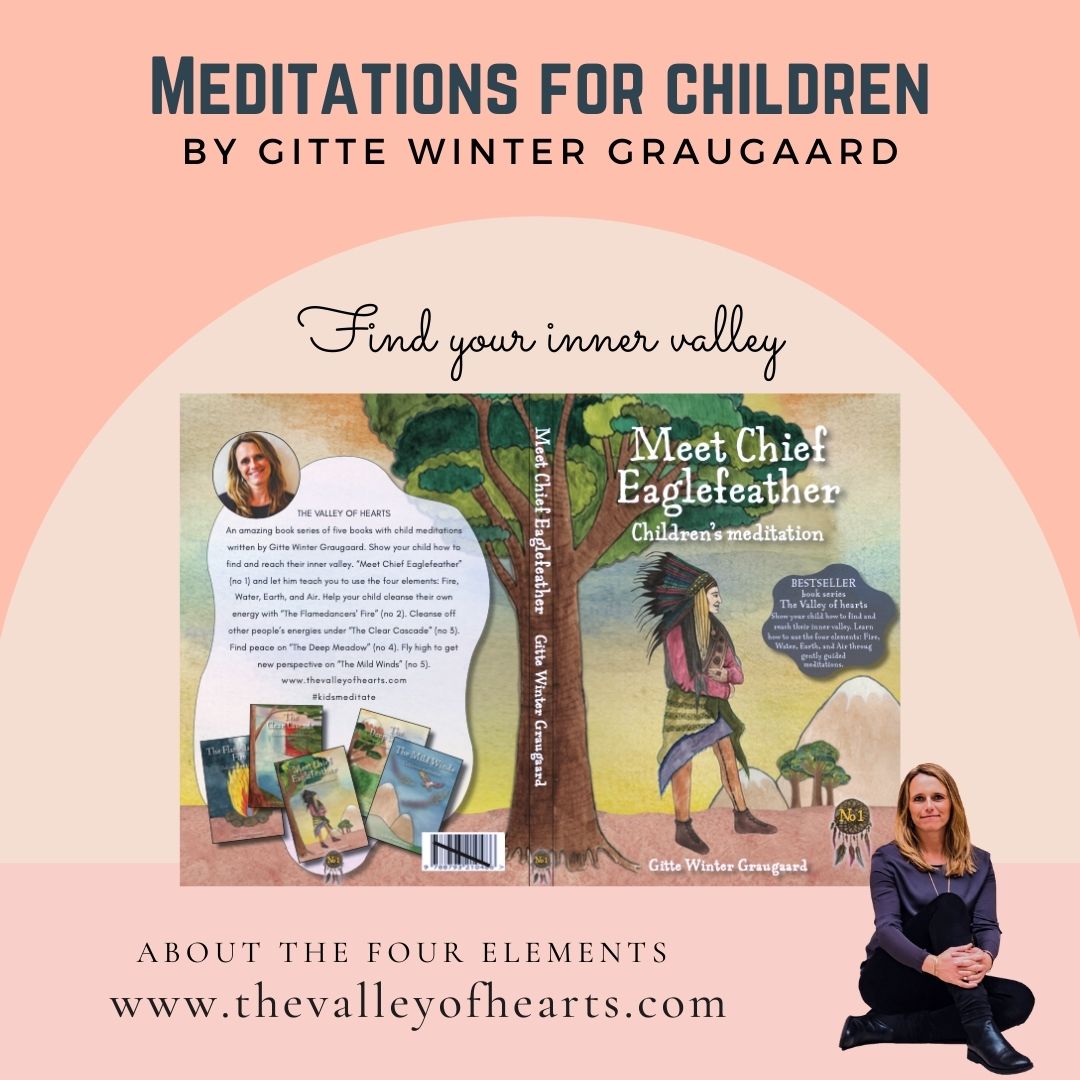 Meet Chief Eaglefeather
This is the first book in the series. You get to meet your guide the wise chief Eaglefeather and he teaches you how to arrive in the valley.  
In my heart
Get the book that helps thousands of kids to sleep every night. Create that special connection that you will cherish forever.
Sleep Course
Would you like to help your child to sleep in a peaceful loving way? So many children have trouble falling asleep. Bestselling author Gitte Winter Graugaard from Denmark is helping thousands of children to sleep all over the world. Come join us.
Get the latest news
Be among the first to receive news from my blog, about my books, lectures, events and other great deals for you and your family.